23/01/2015
I am not ashamed of being branded a sentimental ... | Francis Coates Jones
I am not ashamed of being branded a sentimental ... | Francis Coates Jones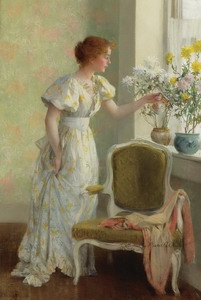 The sky soaring soul -Sergei Revyakov
I am not ashamed of being branded a sentimental,
Always sad to sad music,
From vulgarity often turned up their noses,
I love the smell of fresh roses madly,
And the silence seems to me a crystal ...
Any romance I am pleased
Embarrassment and shyness so clear,
Always at the mercy of the forces of beauty
Implies charm dreams
And the sincerity of heart gratifying. Do not hide from the people, rain and wind,
Share a smile with friends generously,
Forgive all the mistakes and sins,
And with gusto write poetry,
Chanson love and respect "retro".
Not trying to seem perfect,
Do not hide from other accidental tears,
With hardly stand the pain of others,
In the hope of trust, tenderness and love
And I am not afraid of being branded a sentimental ...